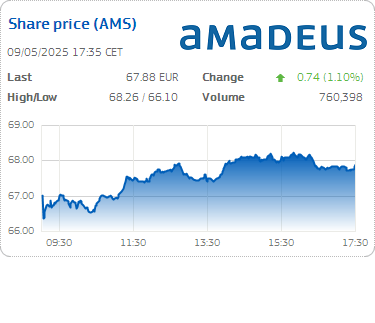 Company description
Amadeus IT Group S.A. (former Amadeus IT Holding S.A.) is a leading transaction processor for the global travel and tourism industry, providing advanced technology solutions to our travel provider and travel agency customers worldwide. We act as an international network providing comprehensive real-time search, pricing, booking, ticketing and other processing solutions to travel providers and travel agencies through our Distribution business area, and we offer travel providers (today, principally airlines) an extensive portfolio of technology solutions which automate certain mission-critical business processes, such as reservations, inventory management and other operational processes, through our IT Solutions business area.
Our transaction-based pricing model allows our customers to convert certain fixed technology costs into variable costs that vary with passenger volumes; it also links our revenue to global travel volumes rather than travel spending, thus reducing the volatility of our operating results.
Investor relations at Amadeus
The mission of our IR function in Amadeus is to create an open dialogue with our investors and analysts, and to build long-term relationships based on credibility and trust. We aim to communicate effectively and proactively, providing you with what you need in a consistent and timely manner.
At Amadeus, we aim to provide detailed and reliable information to help the financial community understand our business and evaluate Amadeus as an investment opportunity, both in the equity and credit markets. In our website, you will find up-to-date information on our financial and operating performance, as well as details and statistics concerning our shares and share capital. The site also includes a summary of our financial strategy and debt facilities.
If you require any further information, please contact us.